South Belfast bus services back to normal after shop fire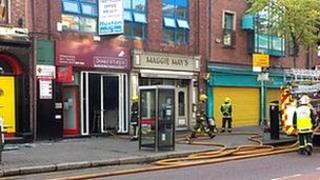 Bus services disrupted by a fire in south Belfast have now returned to normal.
The blaze was at Doorsteps sandwich shop in Botanic Avenue. Smoke from it disrupted transport.
Firefighters were called at 06:00 BST - four appliances and 25 firefighters attended.
The fire broke out at a ground floor store room and the damage was confined to that area of the shop. It is not yet known what caused the fire.