Conall McDevitt confirms paying wife for research work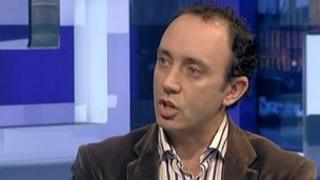 The SDLP's Conall McDevitt has confirmed that his wife has earned money working for him as a researcher.
Mr McDevitt confirmed that she received £30,000 in the last two years from working for him on the Policing Board.
Each political party receives a £16,000 allowance from the Policing Board.
Mr McDevitt's wife Joanne Murphy, who is a working academic at Queen's University has been employed by her husband since 2011.
Last month, BBC Northern Ireland revealed how the expenses list from Mr McDevitt's Assembly office showed a company called JM consulting had been paid more than £14,000 for research and secretarial work.
JM consulting was found to be a company registered as Joanne Murphy consulting. Initially on the expenses register, when asked if any family member had benefited from office expenses Mr McDevitt had said "no".
But a few weeks later the register was changed to acknowledge the work. Mr McDevitt has stressed his wife did not gain financially from the work - saying she had paid fellow academics to carry out the work.
On Tuesday, the south Belfast MLA said he had worked within the rules: "I don't want anyone thinking that I have anything to hide. I try my best at all times to discharge my duties as an MLA to the very best of my ability.
"There was nothing underhand about it - all my invoices were submitted. They're there for public scrutiny and I'm happy to put that beyond question."
In an interview on Tuesday Mr McDevitt was asked if JM Consulting had carried out any other work for the south Belfast MLA in any of his other roles. He said "no", but revealed his wife has been getting paid for work she does for him on the Policing Board.
He said: "Joanne provides me with advice in the Policing Board and that's declared in the Policing Board and that's open and out there. She's an eminent academic and one of her areas of specialism is police reform and she provides me with advice in that role."
The Alliance MLA Trevor Lunn also employs a family member to carry out his research for the Policing Board but refused to reveal their identity.