Secret benefactor pays for David Haddock's burns surgery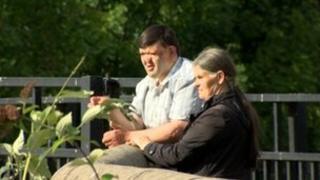 A secret benefactor has stepped in to fund life-changing surgery for a Belfast man who suffered serious burns when he was a child.
David Haddock was left badly disfigured after a house fire 32 years ago.
His mother and grandmother died in the blaze. He was left in constant pain, with difficulty walking and speaking.
His scheduled operations at the Belfast Health Trust were cancelled on numerous occasions, as staff said they had to prioritise life-saving surgery.
Mr Haddock, who was born and raised in east Belfast, also has learning disabilities.
He was three years old when he lost his mother.
Several other family members survived the house fire, including his mother's sister, Edna Williams.
Pioneering treatment
She is now Mr Haddock's main carer and he refers to his aunt as his "mum".
Last January, the BBC highlighted Mr Haddock's case after the trust cancelled seven of his operations in as many months.
At the time the trust, said the surgery did not go ahead at the last minute because life-saving cases were given priority.
However, on the evening the story was broadcast, the BBC was contacted by a benefactor who offered to help.
The person, who wishes to remain anonymous, was so touched by Mr Haddock's plight that they are now paying for treatment in private clinics in Belfast and Dublin.
The pioneering treatment involves skin grafting and hair transplantation. That process has begun and the BBC has been following its progress.
Mr Haddock is hoping the operations will correct some of his disfigurement and ease his pain.
He said he was extremely grateful to those who listened and got in touch.
'Bullied'
"I just want to say thank you to those people who listened, I'm so happy. And thanks to the doctor and my mum who I love. "
Now 35, Mr Haddock has undergone extensive skin grafting to his entire body. The operations are painful.
According to his aunt, he is often bullied because of his features.
"David has had a very difficult life. He's in constant pain, he's been disappointed so many times after the hospital let him down. He's bullied on the street, it's really hard to see a 35-year-old man cry."
The family's story is tragic. On 1 May 1981, in the early hours of the morning, their home in Derwent Street was engulfed in flames.
While Edna and her children got out, her 52-year-old mother Maureen did not escape.
"When I woke up the whole place was in flames," Ms Williams recalled.
"I lifted my baby and shouted to my mum upstairs to get everyone up. My sister Wilma was in a double bed with her son, David.
Critically ill
"I got the entire street up, it was awful. I remember my mum coming to the bedroom window opening it up. She threw my brother out and then she disappeared. She was there one minute and gone the next."
While Maureen died in the fire, David and his mother, Wilma, were rescued by the Fire Service. They were both brought to hospital in a critically ill state and were placed in intensive care.
"I would sit with David during the day and then with Wilma in the evening. It was horrendous to watch. He wanted his mummy - she was unaware of what had happened," Ms Williams said.
Almost a fortnight later, Mr Haddock's mother Wilma was conscious. Ms Williams recalls speaking to her sister and breaking the news that their mother, Maureen, was dead.
Holding back tears, she said it was the hardest thing she has ever had to do.
"The doctor advised me to tell the truth. He said it will either kill her or cure her. Wilma said she knew David had been burned as she'd remembered lying on top of him to beat out the flames.
"Then she asked me to take her home for mummy's funeral - I had to tell her she was already buried and everything in the house was gone."
Ms Williams managed to get a photograph of David that had been taken just days before the fire by a professional photographer. The picture of a smiling three-year-old boy was placed on Wilma Haddock's bedside table.
"She asked me was his wee face burnt. I told her no, for some reason I said it was only his wee hands. She drifted off and that was it… that was the last I spoke to her."
'Battle'
In 1981, the IRA hunger strike was making headlines. As was the trouble erupting across Belfast, Ms Williams was unable to get a bus or even walk to the city's Royal Victoria Hospital.
"On 14 May, Wilma was taken to theatre for surgery. I hadn't seen her in two days because of the trouble. She died on the operating table - I never got to speak to her again. She was only 21."
After the death of her sister, Ms Williams became the sole guardian of David. He was in hospital for a further four months and over the years has had numerous operations.
Ms Williams has seven children and counts David as number eight.
She said that while the health service looked after him as a child, once he became an adult everything became a battle.
"At times it was difficult getting him help. Because of his disabilities they just didn't treat him the same. As he got older things just slowed down - sometimes some of the senior staff weren't very nice to me or David. They just don't have time for people with learning disabilities or for people like us. "
David Haddock knows he will never get to meet those who helped him, so instead, he has thanked them through the BBC.
"Thank you for listening to me and for paying. Thanks to the doctor who did a good job, and thanks to my mum - I love her."
Next week he will travel to Dublin where he will undergo pioneering work that will allow his hair to grow.
In a statement, the Belfast trust said: "David Haddock is a remarkable young man who has been under the care of Belfast Trust for most of his life. His courage is to be commended and his family's devotion to him cannot be underestimated.
"It is with deep regret that the trust cancelled a particular procedure on seven occasions. We fully accept this should not have happened and that it caused David significant anxiety and distress. Under no circumstances was this procedure cancelled because David has learning disabilities.
"The particular procedure that could provide David with a permanent solution is not available on the health service. We are pleased an opportunity has arisen that may solve this and we wish it every success.
"David will continue to be in the care of the trust and we will continue to do our best for him over the coming years."