Hazelwood College pupils sent home over land dispute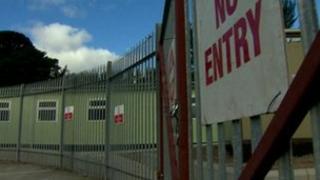 A north Belfast school has said it has had to send about 200 sixth form pupils home at lunchtime as a dispute over land has left it without accommodation.
Land beside Hazelwood Integrated College containing new mobile classrooms was padlocked shut by the Belfast Education and Library Board.
The school blames "an administrative, protracted issue" over the land lease.
The education board said it told the school the lease would not be sorted by the start of September.
The land is owned by the board, which said the lease process was complicated.
Hazelwood Principal Kathleen Gormley said: "It has been devastating morale-wise. It's not what you want to happen on the first day of term.
"I wanted to take my students in and congratulate them on their brilliant GCSE results. I wanted to go out and skip with my year 8 students and I am sending students home."
She said pupils were looking through a locked gate at their new sixth form centre.
"My problem is I need a solution from an operational point of view at Hazelwood in hours - not days, not months," she said.
"This building is sitting here through a fence, I can see it and it's a locked gate.
"Surely an education and library board should care more about children than they do about process."