Richard Haass writes to Northern Ireland leaders before talks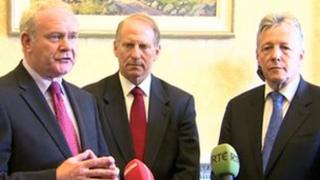 US diplomat Richard Haass has written to Northern Ireland political leaders posing a series of questions ahead of multi-party talks, it has emerged.
Dr Haass, who is due to chair talks later this month, sent the letter after his mid-July visit to Belfast.
He asked the parties for confidentiality and to put forward their best team of negotiators.
Dr Haass also requested the parties answer a series of questions around the issues.
The negotiations are to address disputes around flags, parading and the past.
Sources have said the talks will take place one week each month, with a deadline of December to conclude.
Some political sources suggest Dr Haass, who served as US envoy to Northern Ireland from 2001 to 2003, is most likely to seek agreement around a set of rules to deal with flags, and parades, while setting out a framework for future talks to deal with the past.
One insider told the BBC: "The solutions around flags and parades are technically simple. The problem is getting agreement. The challenges are fairly obvious, getting parties to give and take.
"The past is more complicated. There is no real immediate solution."
Two negotiators from each of the main parties have been appointed to take part in the talks.
The DUP has chosen Jeffrey Donaldson but has yet to confirm its second negotiator.
Sinn Fein has confirmed that MLA Gerry Kelly and Sean Murray have been selected.
The Ulster Unionist party has appointed Tom Elliott, and party activist Jeff Dudgeon.
Assembly members Alex Attwood and Conall McDevitt are representing the SDLP while MP Naomi Long and MLA Chris Lyttle are leading the Alliance delegation.