Titanic Quarter: Office plan biggest since 2007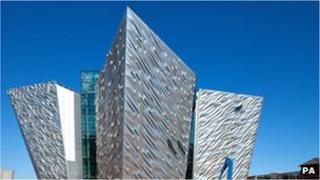 Plans have been submitted for one of the biggest office developments in Belfast since the credit crunch of 2007.
The 190,000 sq ft area in the Titanic Quarter will cost £20m to develop.
The site, beside Belfast Metropolitan College's Titanic Quarter campus, is empty after initial development plans for the area stalled in 2008.
No tenants are signed up, but if plans are approved, there are plans to complete construction by 2015.
The development company behind Titanic Quarter is hoping the new offices will be filled by firms providing hi-tech support to the financial services industry.
David Gavaghan, Titanic Quarter's CEO, said: "As we see the first tangible signs that we are moving out of one of the longest economic recessions in the last century, it is time to ensure that Belfast can continue to offer potential investors flexible, modern, high-end business accommodation."