Row avoided as Belfast City Council condemns violence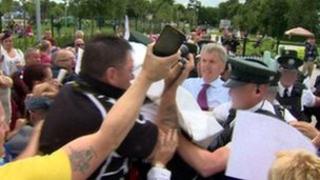 A political row has been averted at Belfast City Council after all parties agreed to support a motion condemning violence, supporting dialogue and respect for difference.
The move came after the DUP said it could not support a Sinn Féin motion which condemned an attack on Sinn Féin Lord Mayor Máirtín Ó Muilleoir.
The mayor was attacked by loyalist protesters at an event in in Woodvale Park last month.
Nine police officers were injured.
The DUP said the original motion was too narrow and said they would not support it.
Instead, after lengthy discussions, all parties on the council supported a new nine-point motion which condemned recent attacks, including the attack on the lord mayor.
The motion reaffirmed that the council would support dialogue and respect shared space and equality.
The original motion opposed any use or threat of force for political purposes, condemned the attack in Woodvale Park and affirmed the right of the lord mayor to attend events when and where he is invited.
But the wording did not get the support of the DUP and a political row looked likely at Monday's meeting.
The DUP's Lee Reynolds explained why his party could not support it.
"There were a range of negative events that impacted the city over the summer months, not just one," he said.
"And it wasn't in our view proper to highlight one above any of the rest. We thought it was too narrow so that's why we sought to broaden it."
'Trouble and mayhem'
The new motion was endorsed by all parties.
Councillor Tim Atwood of the SDLP said it was important the council issued a collective response to the sectarian attacks over the summer.
"It's welcome that the party political leaders came together today to produce a unanimous motion," he said.
Sinn Fein's Jim McVeigh said the all-party motion sent out a message to former US envoy Richard Haass as he prepares to come to Belfast to chair all-party talks.
"I think it's significant that the despicable attack on the mayor has been condemned by everybody, including the DUP," he said.
"We're facing into very important talks here with Mr Haass and we wanted to create the best possible environment for those talks to succeed."
Jim Rodgers from the Ulster Unionists said he hoped those who engaged in violence over the summer would take heed of what local politicians in the council were now saying.
"I think it lets the people of Belfast and Northern Ireland know that the biggest council in the whole of the country can stand united in condemning violence and attacking those who go out to cause nothing but trouble and mayhem," he said.