Tourism fears over NITB advertising cuts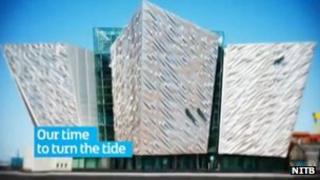 The Northern Ireland Tourist Board (NITB) has said it fears it may miss its visitor targets due to an enforced reduction in media advertising.
It has lobbied Stormont's Tourism Minister Arlene Foster and urged a rethink.
The planned advertising reductions "present a significant risk to achieving targets under the programme for government," the NITB told the BBC.
The issue has been discussed at recent board meetings of the NITB.
'Significantly concerned'
Having already reduced its advertising spend by £1m, the NITB said it is now being asked to reduce it by a further 20% in each of the next two years.
The budget for this year is £2.6m, falling to £1.7m in 2015.
Around 80% of the board's TV and media advertising budget is spent in the Republic of Ireland, a key market.
Tourism is seen as an important sector for economic growth.
"Without a strong promotional campaign we might not be able to compete," said Janice Gault, chief executive of the NI Hotels Federation.
"I do not think people in the industry understand the rationale behind this."
Last year's Our Time, Our Place campaign - hinged on the centenary of Titanic - was viewed as a success by the industry, contributing to Stormont's objective of growing visitor numbers to 4.2m by 2015.
However, NITB board minutes reflect it is now significantly concerned that progress could be undermined.
'Punished'
It has asked Ms Foster's Department of Enterprise, Trade and Industry (DETI) to accept reduced targets.
An additional concern is that the move is not seen as being about saving money.
The NITB has the same marketing budget, but is being directed to reduce the proportion spent on media advertising by the Government Advertising Unit.
More can therefore be spent on non-campaign expenditure.
However this is seen as being less effective, particularly in the Republic.
Within the wider tourism sector there is a view the media is being punished for critical coverage of Stormont.
'Focus'
However, the Department of Enterprise said it wanted to ensure resources "are used wisely and represent value for money".
"The Republic of Ireland market continues to be an important one and NITB will focus their available campaign advertising in this," said a DETI spokeswoman.
She added the Stormont Executive had allocated extra funding for marketing around the G8 summit and was backing future events like the Giro D'Italia cycle race.
Ms Foster was unavailable for interview and her department's statement did not reflect whether or not targets would be revised in view of NITB's concerns.