Woman's ear bitten off during drink binge, court told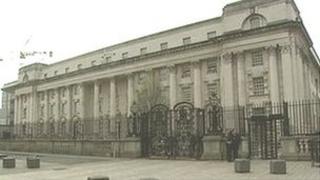 A woman's ear was bitten off during a three-day drinking binge at her south Belfast home, the High Court has heard.
Police called to the scene found her alleged attacker with his lips and teeth covered in blood, prosecutors said.
John Doran, 36, of Emmet Street, Newry, faces a charge of causing grievous bodily harm with intent over the incident.
He was refused bail "due to the risk of committing any further offences".
Mr Doran was said to have met the victim when they were at a rehabilitation centre battling alcohol addiction.
Phoned police
The court heard that in April when he visited her in Belfast, the pair drank bottles of vodka for three days in a row.
The victim's sister then phoned police to say her ear had been bitten off.
When arrested at the house, Doran had cuts and bruising to his face, according to a prosecution lawyer.
"His mouth was full of blood over his lips and teeth," the lawyer said.
Officers were told by the victim that he reacted badly to a conversation about a family member.
"She said he straddled her on the living room settee, punched her at least four times and then bit her on the ear," the lawyer told the court.
'Missing piece'
"She said a piece of her ear was removed whilst he was in the process of biting her.
"Unfortunately police, despite their endeavours, were unable to recover the missing piece of her ear."
A defence lawyer said the alleged attack was only reported two days after it happened.
He claimed the victim paid for his client to buy more vodka for the pair to keep drinking.
Mr Doran, whose life was said to have been "corrupted" by alcohol, also alleged that he was attacked by an unknown man while he was asleep in the house.
Refusing bail, the judge said: "This man knows well by now that he cannot consume alcohol safely, yet he did so and it would appear he is allegedly responsible for this significant injury."