Tributes to Seamus Heaney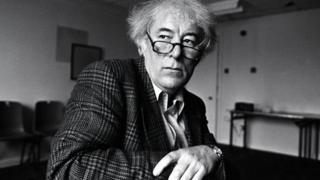 Tributes have been pouring in for poet and Nobel Laureate Seamus Heaney who died aged 74 in Dublin on Friday.
Heaney was awarded the Nobel Prize for Literature in 1995 "for works of lyrical beauty and ethical depth, which exalt everyday miracles and the living past".
He recently suffered from ill health.
Enda Kenny, Irish prime minister
Seamus Heaney belongs with Joyce, Yeats, Shaw and Beckett in the pantheon of our greatest literary exponents.
Michael D Higgins, Irish president
It is with the greatest sadness that I have heard of the passing of Seamus Heaney whose contribution to the republics of letters, conscience, and humanity was immense.
The presence of Seamus was a warm one, full of humour, care and courtesy - a courtesy that enabled him to carry with such wry northern Irish dignity so many well-deserved honours from all over the world.
His careful delving, translation and attention to the work of other poets in different languages and often in conditions of unfreedom, meant that he provided them with an audience of a global kind and we in Ireland gained from his scholarship and the breadth of his reference.
Theresa Villiers, NI secretary of state
Seamus was undoubtedly one of the greatest literary voices the island of Ireland has ever produced and a great ambassador for Northern Ireland.
It is some consolation that his spirit will live on through his legacy of work and that future generations will continue to be inspired by his distinctive poetic voice.
I offer my sincere condolences to the family and friends he leaves behind.
Martin McGuinness, NI assembly deputy first minister
I'm very saddened, also very deeply shocked. My immediate thoughts are with Marie and his family.
I have described Seamus in the past as a national treasure, but he was an international treasure. He was a colossus. We are much poorer for his passing today. I feel it very very deeply indeed.
He was our brightest star and he carried that with incredible humility.
Former US President Bill Clinton
Hillary and I were saddened to learn of the death of our friend Seamus Heaney. Both his stunning work and his life were a gift to the world. His mind, heart, and his uniquely Irish gift for language made him our finest poet of the rhythms of ordinary lives and a powerful voice for peace. And he was a good and true friend.
We loved him and we will miss him. More than a brilliant artist, Seamus was, from the first day we met him, a joy to be with and a warm and caring friend -in short, a true son of Northern Ireland. His wonderful work, like that of his fellow Irish Nobel Prize winners Shaw, Yeats, and Beckett, will be a lasting gift for all the world.
Our thoughts and prayers are with Marie and his entire family.
Mike Nesbitt, UUP leader
Seamus Heaney was a man of global significance, whose insight and artistry brought great credit to Northern Ireland. His influence ran broader than the arts.
I shall never forget Heaney and Longley performing with the Ulster Orchestra as part of the 2009 Belfast Festival at Queens. At the interval, a woman leapt from the front row, too late to stop Seamus Heaney, but in time to catch Michael Longley's attention. 'Michael, Michael' she said, offering up a book of poems 'Do me a favour and ask Seamus to sign that for me please!" It was of course a book of Heaney poetry.
Professor Ciaran Carson, Director of the Seamus Heaney Centre for Poetry at Queen's University
Seamus Heaney's death will leave a void in all our lives. But his words have become part of our lives, and he endures in them. There is no poet in Ireland who has not been influenced by his example, and is in his debt; but so is everyone who has been touched by his poetry, and they are innumerable.
Michael Longley, poet
I feel as though I have lost a brother and I think there are tens of thousands of people today who will be feeling personally bereaved because he had a great presence.
He was marvellous with people. He always seemed to have time to talk to people. The general public took him to their hearts. He was enormously charming and he could be - and it's important to remember this on a sad day such as this - extremely funny as well.
He's a great Irish poet and that's all that needs to be said. He is now with the immortals.
Carál Ní Chuilín, NI culture minister
I am very saddened to hear of the death of Seamus Heaney. He was a literary great of our age and his voice will be truly missed. There were many parallels between Heaney and his work. His reputation was global, but he never lost sight of his roots.
He could show poignancy, insight and humour in a single line. Heaney captured the character of this land and its people, and conveyed it in words which will echo for generations.
Simon Armitage, poet, playwright, novelist
I've got lots of memories of spending time with him. I remember once being in a pub with him in Shropshire. We were both staying with mutual friends and we went to the pub at the top of Clee Hill.
He was a superstar in the world of literature, but in that pub he was like a guy from the village. He just sat there in the corner chatting way - he was very comfortable among non-literary folk.
Jimmy Deenihan, Irish arts minister
He was just a very humble, modest man. He was very accessible. Anywhere I have ever travelled in the world and you mention poetry and literature and the name of Seamus Heaney comes up immediately.
He was a huge figure internationally, a great ambassador for literature obviously, but also for Ireland.
Andrew Motion, former Poet Laureate
Seamus Heaney was a great poet, a wonderful writer about poetry, and a person of truly exceptional grace and intelligence.
Fergal Keane, journalist and author
Seamus Heaney was the most gracious and modest of men. His likes will not be here again. Tragic news. What a loss to poetry and Ireland.
Rob Kearney, Irish rugby player
Seamus Heaney was the Martin Scorsese of poetry. Ireland are lucky to claim him as one of our own.
Lyric Theatre, Belfast
The Lyric Theatre is deeply saddened that Seamus Heaney, our long-term friend and supporter, has passed away.
Mark H Durkan MLA
Saddened to hear of death of Seamus Heaney. He will live on through his timeless art, but it is a hard blow for his family. Rest in Peace.
Patsy McGlone MLA
Seamus Heaney was the voice of this community, a man of the people who knew his community well and reflected the history and cultural richness of that community.
My sincerest sympathies go to the Heaney and Devlin families at this time. We will continue to be inspired no doubt by the great canon of literary work which is his legacy.
Anna Lo, MLA
I am greatly saddened by the death of Seamus Heaney. He was one of my heroes and favourite poets. I greatly admired his work and on several times I had the privilege of listening to him during a reading of his poems.
I met him several times and on each occasion I could not help but be inspired by his enthusiasm for culture. There are many poets in the world who would not have taken up writing had it not been for Seamus Heaney.
"Northern Ireland has lost a cultural icon. He was one of the greatest writers, not just in Northern Ireland but in the world."
Patrick Corrigan, Amnesty International
Seamus Heaney, by his words and actions, spoke not just to people in Ireland, but across the world.
Through the beauty and elegance of his writing, Seamus Heaney reminded us of the bonds which unite and our duty to uphold the dignity of all.
Ireland has lost a legendary man of letters. The world has lost a towering giant of humanity.
Harvard University, USA
We are fortunate and proud to have counted Seamus Heaney as a revered member of the Harvard family.
For us, as for people around the world, he epitomised the poet as a wellspring of humane insight and artful imagination, subtle wisdom and shining grace. We will remember him with deep affection and admiration.
José Manuel Barroso, European Commission president
I am greatly saddened today to learn of the death of Seamus Heaney, one of the great European poets of our lifetime. I had the privilege to meet him on a number of occasions and hear his work first hand.
The strength, beauty and character of his words will endure for generations to come and were rightly recognised with the Nobel Prize for Literature. I would like to extend, on behalf of the European Commission, my condolences to his family.
Dr Frank Sewell, University of Ulster
The loss, which is just now being registered, will be deeply felt.
Prof Heaney was a great poet on a national and international scale, a writer whose work was of such high quality that it is (and will remain) in the pantheon of Irish and world literature.