Three men accused of loyalist fundraising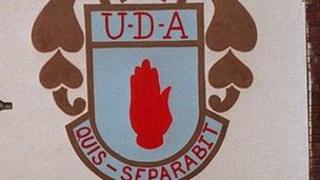 Three men have appeared in court charged with raising money for the Ulster Defence Association.
One of them is also charged with claiming to be a member of the proscribed loyalist paramilitary group.
David Murray, 41, of Lindara Park, Alan Murray, 34, of Cairngorm Walk and Robert Hutchinson, 41, of Fairway, all Larne, denied the charges.
Defence counsel said the charges were based on allegations from a man "who is himself no stranger to the dock".
The court heard that James Hassan has made allegations to police that he was approached by the accused last week in Larne, County Antrim.
A police officer told the court that the men accused Mr Hassan of stealing sportswear from David Murray and burning out his car.
It is alleged they demanded £8,000 or Mr Hassan's family would be forced to leave Larne. The police officer also said that David Murray claimed to be the new commander of the UDA in Larne.
A defence solicitor said there were no injuries, no forensics and no recordings to back up the allegations.
All three of the accused were granted bail with conditions including no contact with witnesses and they are to reside outside Larne.