William Samuel Dunwoody must serve 19 years for Margaret Telford murder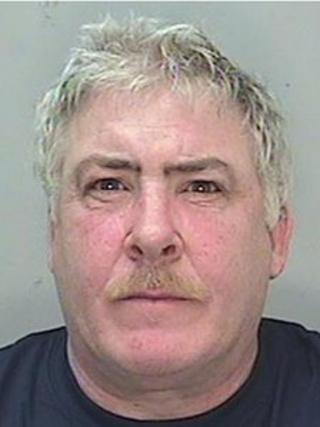 A man who murdered a Belfast pensioner in 1988 has been told he must serve at least 19 years of his life sentence before he is considered for release.
William Samuel Dunwoody was convicted in June of the murder of 68-year-old Margaret Telford.
The pensioner was found dead in her Twaddell Avenue home on 4 February 1988. She had been strangled.
Dunwoody, 52, was originally from north Belfast but more recently had been living at an address in Birmingham.
On Friday, Belfast Crown Court heard that he finally admitted to the murder in a pre-sentence report.
Attacked
The hearing was told that Mrs Telford, who was known as Peggy, knew her killer, having helped his family in her role as a family aid assistant in the 1980s.
The court heard that Dunwood was on parole for another offence when he went into her house, looking for money.
He attacked and killed the pensioner when she threatened to call the police.
Imposing the 19-year minimum tariff, the judge told him: "You killed someone who did you no harm, who showed you kindness and you thought you could get away with it."
Dunwoody was arrested and questioned about the murder as the result of a Police Service of Northern Ireland review of the case in 2011.
During the re-investigation, scrapings from under Mrs Telford's fingernails were sent for analysis and scientists uncovered Dunwoody's DNA profile on the samples.
'Unnecessary suffering'
A post-mortem examination concluded that as well as being choked with a ligature, there were injuries suggesting the pensioner had been assaulted around the face and head.
Following Friday's sentencing, Mrs Telford's son Peter said the family was now able to start a new life after a long wait for justice.
"It is like taking a breath of fresh air after holding your breath under water for a long time, you can breathe out," he said.
Mr Telford described his mother as a quiet, generous person who was good fun to be with.
Speaking outside the court, Det Insp Peter Montgomery said the Telford family had "endured unnecessary suffering over the past 25 years".
"At 68 years of age Peggy deserved to live in safety within the sanctuary of her own home. At the time of her death she was a widow, living alone and in poor health.
"However Samuel Dunwoody decided to exploit that by murdering a much loved mother, friend and neighbour."
Mr Montgomery said detectives from the PSNI's Serious Crime Review Team and Retrospective Major Investigation Team had received "fantastic support" from staff in the Forensic Science NI and the Public Prosecution Service during the re-investigation.
He added: "Today justice has been served for Peggy and serves as a reminder that although a large passage of time has elapsed police will regularly review cases and where there are new opportunities presented we will pursue them vigorously."