Belfast Zoo's oldest Asian elephant, Jenny, dies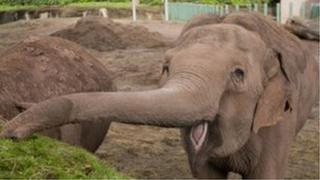 Belfast Zoo's oldest Asian elephant, Jenny, has died aged 53.
Jenny joined Belfast Zoo's elephant sanctuary, for elderly non-breeding females, in April 2009.
The elephant which was born in 1960 once lived in an Italian circus before being re-homed at the zoo before passing away on Friday.
Belfast Zoo said they were deeply saddened by the death and had temporarily closed the elephant enclosure.
Belfast Zoo vet, Michael Griffith, spent a lot of time with Jenny during her time at the zoo.
"Jenny once lived in an Italian circus and during her time there she accidentally stood on a tent pole, causing damage to one of her feet," he said.
"Since her arrival at Belfast Zoo, we have been treating her foot and have become very fond of her.
'Very sad time'
"Jenny is one of the oldest elephants in captivity in Europe and from her post mortem results it would appear that she had an aggressive form of cancer which affected her organs and blood vessels leading to a heart attack and her death on Friday."
Zoo curator, Alyn Cairns, said: "Jenny passed away on 23 August and it has been a very sad time for the whole zoo team.
"The bonds between an elephant herd are extremely strong and we therefore made the decision to close the elephant and giraffe walk, on Friday, to give Yhetto, Dhunja and Tina a chance to grieve," he said.
"Jenny's death is a huge loss to the zoo's Asian elephant herd, but she will also be greatly missed by the keepers who have worked with her every day for the last four years.
"A number of years ago, we made the decision to become a 'sanctuary' and retirement home for a herd of elderly non-breeding females.
"We were aware of the responsibilities that came with caring for these older elephants and although we are all deeply saddened by her death, we are delighted that we were able to see her enjoy her last few years at the zoo."