Dale Farm in record annual sales of £228m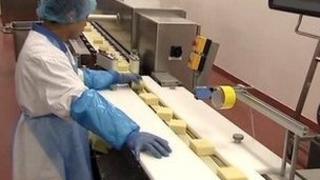 Northern Ireland's largest dairy business Dale Farm notched up record sales of £228m last year.
Major investment at its manufacturing plants - which created 120 jobs - was said to have improved its performance in a difficult year for the industry.
Growth was mainly generated by sales of cheese and butter in the British Isles and Russia and milk powder into China, the Middle East and North Africa.
Dale Farm is part of United Dairy Farmers Coop which has 1,000 employees.
United posted a group operating profit of just over £5m, up 5% on the previous year.
It said the results were "solid" for a year in which the dairy sector had been hit adverse weather and high feed costs.
Another subsidiary, United Feeds, saw sales jump by 27% to £48m.
Chief executive of the United Dairy Farmers Coop, David Dobbin, said: "Looking forward, international markets have remained firm and the group is in a strong position to deliver further growth."