Turkey murders: Relatives in court but trial adjourned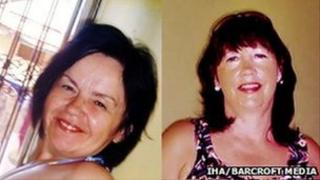 The trial of two men charged with murdering two County Down women in Turkey has been adjourned.
Marion Graham, from Newry, and Cathy Dinsmore, from Warrenpoint, were found dead in a forest outside Izmir in August 2011. They had been stabbed.
Recep Cetin and his father, Eyup, have been on trial before four judges.
Recep has admitted stabbing the women, but claimed his father had nothing to do with it.
Families of both women had travelled to Turkey for the final stages of the trial in Izmir - it had been thought that there may have been a verdict and sentencing on Thursday.
At the time of the killings, Recep Cetin was the boyfriend of Marion Graham's teenage daughter, Shannon.
The victims, who were in their early 50s, had been on holiday in the resort of Kusadasi.
The legal process was held up after Recep Cetin falsely claimed to be 17, in an apparent attempt to be tried in the juvenile court, where sentences are lighter.
But he was transferred to an adult court after medical tests proved he was in his early 20s.
Innocence
The case was further delayed when Recep Cetin said he was psychiatrically ill.
Doctors examined him and have found him to be sane. Eyup Cetin maintains his innocence.
But a witness has said he saw both men at the crime scene.
On Thursday, the trial was adjourned until 9 September after a lawyer for Recep Cetin objected to a medical report which has declared him sane.
The lawyer asked for the matter to be referred to a higher health authority.
The case was heard by a panel of four judges but two of them were temporary and had not been at any previous hearings in the trial.
The four original judges have to consider the defence lawyer's request.
The hearing lasted less than 10 minutes.
As he was led out of the dock, Recep Cetin looked at the relatives of Marion Graham and Cathy Dinsmore in the public gallery and said: "I'm sorry, I'm sorry."
Earlier, Eyup Cetin had told the court that "he had disowned his son".
Marion Graham's children Shannon, David, Lorraine and Tina attended the hearing along with Cathy Dinsmore's brother George, her nephew Robert and niece Ruby.
Lawyer Baris Kaska, who is acting for the relatives of both women, said the families were frustrated by another delay in the complex and lengthy legal process.
"They are disappointed, of course, because they were expecting a verdict today," he said.