Dentist Prof Philip Lamey bids to block meeting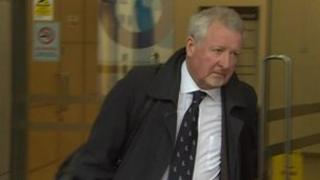 A senior dentist facing widespread malpractice allegations has launched a legal bid to block a meeting that could result in his dismissal.
Prof Philip Lamey went to the High Court in a bid to secure an injunction against the Belfast Health Trust.
His lawyers claim a request to attend a meeting on his future was fuelled by a media outcry and a "treacherous shortcut" of misconduct proceedings.
A judge will rule on whether to grant the injunction on Thursday.
Professor Lamey is accused by the General Dental Council (GDC) of 46 counts of malpractice against 33 different patients.
The allegations, which he denies, involve his work as senior consultant at the Royal Dental Hospital in Belfast.
Adjourned proceedings in the GDC hearing are due to resume in October.
The dentist issued his legal action after being asked by the trust to attend a meeting last month.
Although not certain, his dismissal could potentially result from it, the court heard.
'Hue and cry'
Professor Lamey's barrister, Jonathan Park, argued that it was wrong for the trust to step in half way through the GDC case due to press coverage.
"It's quite unfair, were it to be sanctioned by the court, that following every hue and cry by the media, a public head could roll, regardless of what he or she had done or not done," he said.
Conor Hamill, for the trust, pointed out that alleged admissions about record keeping failures have already been made in Professor Lamey's case.
"I need not stress the importance of record keeping... for someone, the most senior consultant in the leading school on oral surgery in Northern Ireland," he told the court.
Disputing the legal basis for trying to stop the meeting from taking place, Mr Hamill said the potential impact on the trust of continuing to employ the dentist had to be considered.
"We want a meeting with him to hear what he has to say about this situation; he will be accompanied and have an opportunity to state his case," the barrister added.
"In the event there could be a dismissal. Of course there would be an appeal from that, and he has remedies he can seek in the High Court or an industrial tribunal if he feels he has been unfairly dismissed.
"At this stage all we want is to meet."
Reserving judgment until Thursday, Mr Justice Deeny acknowledged the importance of the case to both sides and other interested parties.