Shipping through Foyle Port increases 27%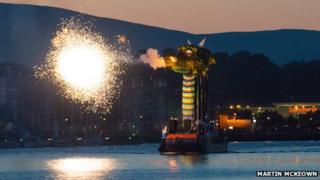 Shipping through Londonderry's Foyle Port increased by 27% over the past year, according to the chairman of Londonderry Port and Harbour Commissioners.
Mr Garvan O'Doherty announced the results for the year 2012 - 13 at the Harbour Commissioners annual general meeting on Wednesday.
He described the past year as a "momentous one" for the port.
The trade led to pre-tax profits of over £1.2m.
In the summer of 2012 the port welcomed the round the world Clipper yacht race and in 2013 it hosted the Return of Colmcille pageant as part of the UK City of Culture programme.
Mr O'Doherty said the events demonstrated that "tapping into the potential of the Foyle helps to showcase the best this city has to offer".
"The development of marina infrastructure in the city centre - on time and on budget - provided a platform for the Clipper event which will live long in the memory of our citizens," he said.
"Over this period, the port's profile has been further enhanced by our sponsorship and support of City of Culture events such as the Return of Colmcille pageant - for which we provided technical marine support - and Fleadh Cheoil na hÉireann, which transfixed huge crowds here this summer.
"These events have greatly cemented the port's reputation and we have also been proud to play a role in developing the marine aspects of what is now a formidable infrastructure for future tourism and economic development."
Port chief executive Brian McGrath said the accounts contained in the annual report reflected "an ever-improving operational performance with turnover of £6.4m with profit on ordinary activities before taxation of £1.2m".
"This represents a significant increase in turnover driven by a 27% increase in tonnage handled," he said.