NI mortgage lending rises over second quarter of 2013, says CML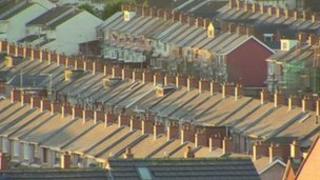 There is another indicator that the housing market in Northern Ireland is picking up, with new figures showing an increase in mortgage lending.
A total of 2,400 loans worth £210m were advanced to borrowers in Northern Ireland in the second quarter of 2013, a rise of 20% on the previous quarter.
Most of the mortgages were for first-time buyers. The 1,500 loans to them is the highest quarterly total since 2009.
The statistics have been released by the Council of Mortgage Lenders (CML).
The council said first-time buyers were "the key driver" in the Northern Ireland housing market.
Brian McCormick, of CML in Northern Ireland, said: "House prices in Northern Ireland are starting to stabilise and in the second quarter we did not see a year-on-year fall which is a very positive sign for the future, alongside lending increases. "
On average, first-time buyers in Northern Ireland borrowed £71,000.
The CML figures also showed a return to growth in another sector of the market - home movers.
However home movers in Northern Ireland only accounted for 42% of the house purchase market, lower than the 55% UK average.