Northern Ireland Fire Service chairman Joe McKee resigns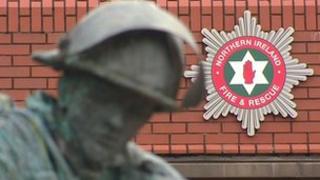 The chairman of Northern Ireland's Fire and Rescue Service has announced he is stepping aside from the post.
Dr Joe McKee was half-way through a four-year term.
He said the past number of years had seen the service under a great deal of public scrutiny.
The Northern Ireland Fire and Rescue Service has been the subject of an unprecedented number of reviews and audits, some of which were ordered by the health minister.
In a statement to the BBC, Mr McKee said, he hoped the end of the year "would mark the conclusion of a very challenging period which would allow the service to look forward".
"What has given me greatest satisfaction has been the knowledge that, on top of the recent high levels of political scrutiny and departmental compliance, NIFRS has continued to provide the general public with a consistently high service, not only in terms of responding to emergencies but also in the wider context of community safety and fire prevention," Mr McKee said.
"This is my third year in post and in this time the service has always lived within its annual budget and we've seen emergency calls continue to fall with a corresponding decrease in deaths from fires and road traffic collisions.
"It's a pity that this essential aspect of our performance is sometimes taken for granted, but I've been constantly heartened by the daily accounts of the outstanding service delivery of our frontline firefighters."
The fire service has recently been the subject of investigations following allegations of financial irregularities. One of the investigations is by the Department of Health and the Public Accounts Committee.
The investigations concerned allegations of fraud, unapproved bonuses and failures to deal with staff grievances.
In March, Terry McGonigal, the service's director of finance, stepped down from his post.