West MP Paul Maskey hits out at 'drug dealer list'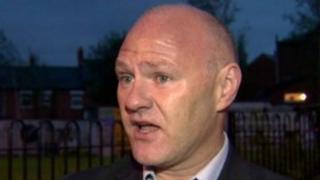 People who distributed leaflets containing a list of names of alleged drug dealers have been criticised by West Belfast MP Paul Maskey.
All 52 of those named live in west Belfast.
The leaflet does not identify those behind it but Mr Maskey said it had "created a lot of fear in the community".
He said some of the leaflets were put through letter boxes while others were thrown from a car.
The MP said people as young as 17 were named on this list.
"People who did this should be ashamed of their action," he said.
'Scare tactic'
"I think whoever did this is totally irresponsible and they should come forward and explain why they did this."
Mr Maskey said the authors of the leaflet claimed the information had been supplied "by those in the drugs trade.
"Now, are these people trying to hide someone else, or are these people trying a scare tactic on this community. If so, they have failed," he said.
He said the leaflet had been picked by social media.
"Whoever is behind it is pathetic because they have put 52 people at risk, people who are fearful tonight that they could be attacked because their name has appeared (on the list).
"People have come forward and said their sons' names are on this list and they are totally innocent. They have been involved in no dealings with drugs and some haven't even been involved in the taking of drugs.
Police said they were aware of the list and had obtained a copy.