Marain McGlinchey arraignment adjourned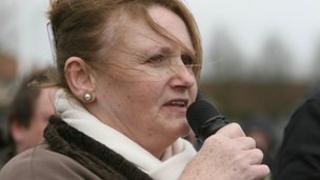 The arraignment of Marian McGlinchey on a charge of providing a mobile phone for terrorist purposes has been adjourned due to ill health and fear of facing the media.
Her lawyer said he would be applying for a ban on the media recording the Old Bailey bomber's image.
He told the judge there was a "plethora of medical evidence" of her ill health.
He also said she feared if she comes to court, her photograph would be taken and distributed.
The defence lawyer agreed with the Belfast Crown Court judge that there was nothing in the reports to suggest she was not fit to come to court for a short time for her arraignment and that "this woman has to attend court".
Skeleton argument
The lawyer revealed that the defence intended to make an application for an order that would "prohibit any image being taken or distributed or published" due to repeated death threats allegedly hanging over her and to facilitate her appearance at court.
He also claimed that Mrs McGlinchey's appearance had altered significantly.
In adjourning the arraignment until a date to be fixed, the judge told the lawyer he would allow him a week to lodge any skeleton argument to show him the reasons why and under what authority he could make such an order.
Mrs McGlinchey, also known as Marian Price and of no fixed abode, served a jail sentence along with her late sister Dolours Price for the 1973 IRA bomb attack on the Old Bailey in London.
Her licence was revoked in 2011 and she spent two years in custody before she was finally released earlier this year.
Her lawyer said that time in custody had had a major deteriorating effect on Mrs McGlinchey's health.