Belfast City Council online viewings rise by 500%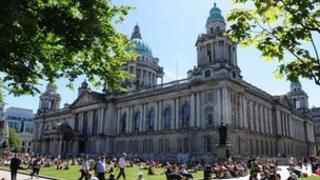 The number of viewers for online coverage of Belfast City Council's monthly meetings has risen by more than 500% in the last year.
Council figures show that there were 30,267 views of council meetings online from September 2012 to July 2013.
This compares to 4,963 views during the 2011-12 council year.
The council meeting on 3 December 2012, when the decision was taken to fly the union flag at City Hall on designated days, attracted most online viewers.
A total of 8,328 viewers either watched that meeting live on the internet, or viewed the archive stream of the meeting available on the council website.
The following meeting on 7 January 2013 also attracted high numbers of views, with 2,692 viewers watching it live online, and 2,174 accessing the archived coverage.
They were the only two council meetings which attracted more than 1,000 viewers for live coverage.
There is no indication of how long each viewer watched the meetings for.
Belfast City Council began a three-year programme of screening full council meetings online in December 2011, at a cost of £20,000 a year.
Therefore, the council's figures for the 2011-12 council year only take into account viewers from that date.
However, all of the meetings in 2012-13 show a substantial rise in viewers compared to the same month in the previous year.
The figures were presented to a meeting of the council's strategic policy and resources committee.
The committee was also told that discussions would be held with the coverage provider in early 2014 on the future of the screenings.
Belfast City Council is the only council in Northern Ireland to broadcast its meetings live on the internet.