Five "air rage" incidents in and out of Northern Ireland in 24 months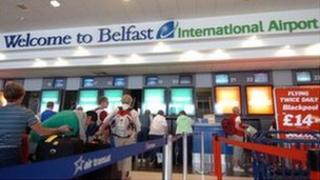 Five "air rage" incidents have taken place on commercial passenger flights in and out of Northern Ireland in the past two years.
On separate occasions, passengers assaulted cabin crew and tried to assault other travellers.
In most of the incidents alcohol had been consumed by the aggressive passengers and all took place mid-air.
The findings are the result of a Freedom of Information Act request to the Civil Aviation Authority.
On one occasion, an Airbus A319 from Northern Ireland had just landed at London Heathrow and one passenger refused to get off the plane, which seats about 150 people.
They displayed "irrational" behaviour and the police and paramedics had to be called.
Assault
In another incident, a member of the cabin crew on a similar plane was punched in the chest by a passenger who appeared to be under the influence of alcohol.
Another flight attendant was assaulted by a passenger who was part of a group travelling together.
When the plane landed, it was discovered the entire group had been consuming their own alcohol.
In another incident a disruptive passenger tried to hit another passenger.
At Belfast International Airport last month, a passenger was "off-loaded" prior to the flight taking off.
He became abusive to another passenger when asked if he was in the correct seat.
Alcohol consumption
It is not clear from the information provided if the passengers involved in the other incidents were men or women.
Mike Fisher, chairman of the British Association of Anger Management (BAAM), said five air rage incidents in two years was "not a very high number" considering the number of air passengers who travel each year.
"You're only talking about a few airlines in Ireland, or across Ireland to England, but I imagine across the planet there's definitely an increase and I think it is partly to do with the amount of alcohol that is actually consumed on airline travel, coupled with all the anxieties and stresses of travelling in the first place," Mr Fisher added.