Real IRA man's family to be compensated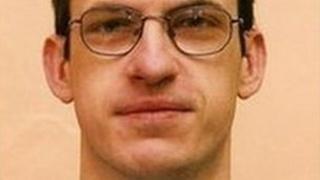 The family of a Real IRA man murdered by his own paramilitary gang are to be compensated, the BBC has learned.
Kieran Doherty was shot dead in Londonderry three years ago and his body was dumped by the roadside.
His mother and grandmother were awarded an undisclosed sum by the Criminal Injuries Compensation Appeals Panel. Unionists have criticised the move.
The family said police claims during the hearing that their son was involved in drugs did not stand up to scrutiny.
The body of the 31-year-old was found naked and bound on the Braehead Road on the outskirts of Londonderry in February 2010.
Kieran Doherty's uncle, Vinnie Coyle, speaking on behalf of the family, said it was a "substantial" amount of money.
"The family are happy with the amount of cash," he said.
"But what's more important to the family is, in their opinion, Kieran's name has been cleared because the PSNI evidence and the evidence that the PSNI produced on behalf of MI5 and the security services did not stand up to very, very close scrutiny."
'Sicken'
Mr Coyle said that the family had done "nothing wrong" yet had suffered.
"They are victims and it's my belief, and the belief of the Doherty family, that victims should be fully and openly and honestly compensated for acts carried out on family members," he said.
However, Ulster Unionist MLA Tom Elliott said compensation should be awarded on a fair basis.
"My concern is whenever I realise the pittance that some families of murdered security force members got, the very small amounts that they received in the past," he said.
"To hear that a very substantial amount has been paid to the family of what was a Real IRA member then it really does sicken me to hear that difference."