Dublin bin death: Police seek public help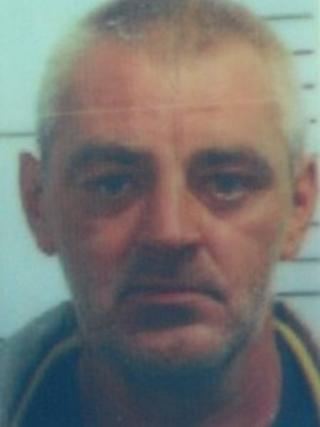 Irish police are seeking the public's help after a Polish man was killed when the bin he was sleeping in was picked up by a waste lorry in Dublin.
Little is known about the life of Henryk Piotrowski, 43, in Dublin, except that he was sleeping rough in the city centre.
The lorry picked up the bin on Thursday and its contents were loaded onto the onboard crushing equipment.
Horrified staff found his remains after the vehicle was unloaded on Friday.
The operator had no knowledge of the tragedy until the lorry was taken to a waste recycling depot after an overnight round collecting refuse from similar bins across south Dublin.
Staff at the plant were said to be deeply distressed by the tragedy.
High unemployment
On Sunday the Gardaí (Irish police) ruled out foul play, saying they believed Mr Piotrowski was probably sleeping among paper and recyclable rubbish to keep warm.
But on Monday they said they were looking into all angles.
He was carrying identification papers when he was found and detectives liaised with the Polish embassy and Interpol to find his relatives in Poland, who have now been contacted.
The embassy later confirmed that Mr Piotrowski came from the city of Olsztyn, in north-eastern Poland.
The police are staging a major investigation to try to find out what happened to Mr Piotrowski, checking CCTV near bins on the route.
They believe Mr Piotrowski was in the Dame Street area between 1900 and 2200 BST on Thursday. There were also sightings on the South Quays area in the early hours of Friday 23rd.
Ireland has been a popular destination for Polish migrants after EU enlargement in 2004.
The Polish community forms the Republic of Ireland's largest minority with Poles outnumbering UK citizens living in the country.
More than 120,000 Polish people were resident in Ireland when the last census was taken in 2011, marking a doubling in numbers over five years.
But the Irish recession has hit some hard.
Many Polish men once reliant on construction work are now out of work due to the collapse of Ireland's construction industry after a banking sector failure in 2008.
Some have left but others have fallen on hard times with high Irish unemployment meaning jobs are scarce.
Staff at soup kitchens which have sprung up in Ireland say Polish men represent a significant number of those in need of basic meals.
Rules on residency in Ireland mean some cannot get social welfare while alcohol problems have also affected some who have ended up on the streets.
Mr Piotrowski's story echoes the fate of a number of other men who came to Ireland from abroad to live.
Kevin Fitzpatrick, 36, from Derbyshire, was found dead in virtually the same circumstances when his body was found at a waste recycling plant in Limerick in September 2007 after he had gone to sleep in a bin.
In May, Czech national Josef Pavelka, 52, was found dead in Ennis, County Clare, despite warnings from a judge and community leaders that he would die unless given proper accommodation.
He had been living in a public toilet in the town.
And Slovak musician and busker Aladar Turtak, who had alcohol addiction problems, was found dead in December 2011 - reportedly huddled near a cardboard box in Dublin city centre where he had been sleeping rough in freezing temperatures.