Parades and protests in Belfast pass off peacefully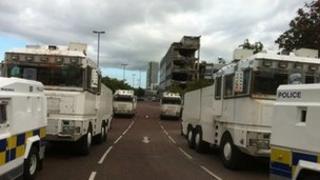 A major security operation has taken place in north Belfast to keep rival protest groups apart as a number of parades took place on Sunday.
A Royal Black Preceptory parade and a march by the Henry Joy McCracken Flute Band took place at the same time.
Hundreds of police were on duty around Carlisle Circus and St Patrick's Catholic Church as protests were held at both marches.
The parades passed off without incident.
The security operation has now been scaled back.