PUP man Ken Wilkinson 'sent bullet and sympathy card'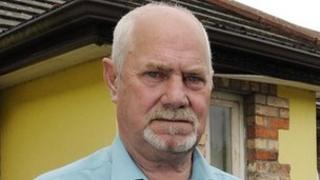 A member of the Progressive Unionist Party has said he received a bullet and a sympathy card in the post.
Ken Wilkinson said he opened the package in front of the postman and the bullet fell out.
"I'm not sure who is behind it, but I am a party member that continuously speaks out against drug dealers in our community," he said.
Mr Wilkinson said he was warned by the police last week about a threat to his life.
Just over a year ago, a car was driven up against his home in Antrim and set on fire.
His home was also targeted in a pipe bomb attack in December 2010.
"I will continue to work for the community and continue to speak out against issues affecting the community," he said.
A PUP spokesperson said: "We condemn those responsible for this latest attempt to threaten and intimidate a party member and we will continue to work to improve the lives of those living in local communities."
A police spokesman said: "We do not discuss the security of any individual.
"However, if we receive information that a person's life may be at risk we will inform the relevant persons accordingly. We never ignore anything which may put an individual at risk."