Elderly couple rescued from Drumbeg arson attack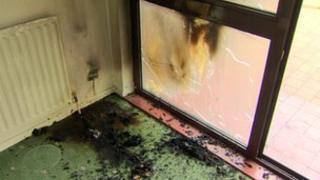 An elderly couple have been rescued from a fire started deliberately at their home in Lisburn, County Antrim.
A woman saw the fire at about 00:40 BST on Saturday and went into the house at Moss Road, to wake the couple.
All three suffered the effects of smoke inhalation and a man, who went to help, was burned.
A wheelie bin had been pushed up against the door of the house and burning rubbish had been posted through the letterbox.
The couple are aged in their 70s. None of the injuries are thought to be life threatening. Police have appealed for information.
DUP MLA Paul Givan said it was a "mindless act" that could have ended in death.
"The reckless actions of the individuals responsible could have resulted in the deaths of the elderly couple who were asleep in bed oblivious to the threat of the house being on fire," Mr Givan said.
'The people responsible for this mindless act need to be brought before the courts and face the consequences of their actions."
It's understood the couple were taken to hospital and are now staying with relatives.