Samuel Beckett celebrated at Happy Days festival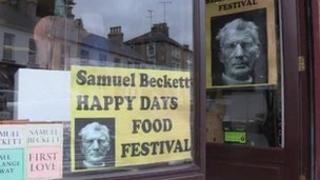 Enniskillen in County Fermanagh is celebrating its links to the Nobel prize winning writer Samuel Beckett with the Happy Days International Festival. The festival has more than 120 events over five days.
Beckett was born in Dublin and spent most of his life in Paris, but it is the town where he spent a few years as a pupil of Portora Royal School which is attracting fans and an A-list cast of actors performing his works.
The organisers have persuaded Juliet Stevenson, Fiona Shaw, Diana Quick, Miranda Richardson and Neil Pearson to travel to the town, a few months after the Prime Minister David Cameron hosted the G8 leaders at a summit in the lakeland county.
Neil Pearson, who starred in the Bridget Jones' Diary films and television comedy Drop the Dead Donkey, said he had never performed Beckett before, but was drawn to the festival, especially given its location.
"We say that the arts are for everybody and they're paid for by everybody and I think it's great that we're out of the usual urban places where festivals are to be found," he said.
Although Beckett has a reputation for being miserable and obsessed with death, the actor said there was another side to him, a man with a twinkle in his eye.
"There are many misconceptions about Beckett, one of them is that he was this harbinger of doom and that's all he is," he added.
Unusual locations
"I think he has a very forbidding reputation, but if you can get past that and get to a performance of Beckett, you do see that humour. It can be a bleak humour, but it's there."
It is the second year of The Happy Days Festival, named after a play said to have been penned in response to Beckett's wife's request that he write something happy.
Some of the festival programme reflects the darkness of his writing, with underground performances in The Marble Arch Caves, but his humour is also on offer with a selection of comedy dubbed Fooling Around Beckett.
As well as the caves, his works are being performed in other unusual locations including castles and crypts, islands on Lough Erne and even the local police station.
Enniskillen has only recently started to promote its links with Beckett. A blue plaque was unveiled on the wall of Portora Royal School in 2008 alongside that of another famous literary pupil, Oscar Wilde.
Happy Days Festival director, Sean Doran, said part of the reason people are unaware of Beckett was his forbidding reputation and the fact that his works are rarely performed.
"He attended school in the early 1920s and he is not to everybody's taste, but more from people not having the opportunity to attend the work," he added.
"So to do it in this festival format and so many productions of his work, the local audience has embraced it hugely.
"Up and down the main street from the comic side of things like Beckett breakfasts and Krapp sandwiches and Beckett haircuts and so on, right through to the serious stuff of two Endgames, his biggest serious play that he considered his best."
Some people have made a long journey to be part of the festival.
Two aboriginal actors, Kyle Morrison and Ernie Dingo, travelled for 30 hours from Australia to see the Antony Gormley designed metal tree for Waiting for Godot, which will be used in a forthcoming joint Irish-Australian production.
Kyle Morrison said: "Godot's a play that people say nothing happens - twice - and there's only a tree and a desolate landscape.
"In terms of us working on it together, we come from desert countries and so that expanse of nothingness and being powerless and dispossessed in your own country is a theme that we share."
The finished production will premiere at next year's festival ensuring the international reputation of Happy Days in Enniskillen will continue to attract fans of Beckett's work as well as introducing his work to a new audience.