Belfast man charged over Kelly's Cellars petrol bomb incident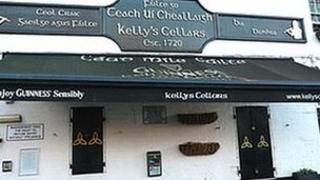 A Belfast man has been charged with throwing a petrol bomb during an incident at a busy city centre pub last month.
Anthony James Campbell, 33, of Stratheden Street, is also accused of common assault and criminal damage.
The charges arise out of an incident at Kelly's Cellars in Bank Street on Saturday July 27.
Mr Campbell is out on bail and the case was adjourned at Belfast Magistrate's Court until next Wednesday.
He is also accused of making the petrol bomb.