Historical child abuse inquiry to visit Australia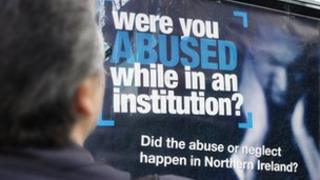 A team from the Historical Institutional Abuse Inquiry is to travel to Australia next month to meet potential witnesses.
Of the 355 individuals who have applied to speak to the inquiry so far, 57 are from Australia.
The inquiry was set up to examine the extent of child abuse in the Catholic church and state-run institutions in Northern Ireland.
It is due to report to the Northern Ireland Executive in 2016.
Documents examined by the inquiry revealed that, between 1947 and 1956, 110 children were sent from institutions in Northern Ireland to institutions in Australia (primarily Western Australia), as part of a UK government policy of child migration.
An inquiry spokesperson said: "The inquiry is very conscious of the need to make the whole process as accessible as possible to potential witnesses, wherever they may reside.
"It is for this reason that it has decided to send a team to Australia to meet the large number of applicants there.
"This will reduce the need for applicants to travel to Northern Ireland, and will help to ensure that as many potential witnesses as possible can speak in person to the inquiry."
Campaign
Most of the applications to speak to the inquiry have come from people in Northern Ireland.
The inquiry has also received 47 applications from Great Britain, 17 from the Irish Republic and five from other countries.
In February, the inquiry launched a promotional poster and leaflet campaign in an attempt to get more victims to come forward.
Prior to the campaign, 175 formal applications had been received, of which just 1% came from outside Northern Ireland, Great Britain and the Irish Republic.
So far, the inquiry's acknowledgement forum has met with 173 applicants, and its legal team has interviewed 60 potential witnesses to help prepare witness statements.
The Historical Institutional Abuse Inquiry was established following the damning Ryan Report in the Irish Republic that uncovered decades of endemic abuse in some religious institutions.
The inquiry, which is chaired by retired judge Sir Anthony Hart, is due to hold its third public hearing at the Ramada Encore in Belfast on 4 September. Sir Anthony will provide a report on the work of the inquiry to date.
Potential witnesses are still able to submit formal applications to the inquiry, if they have not already done so, at the inquiry's website.