NI film director apologises for publicity 'nail bomb kit'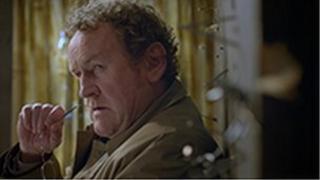 A film director has apologised for a promotional pack for his new film that contained a balaclava, nails and a roll of duct tape.
The pack was sent to journalists and film critics to promote A Belfast Story which is released next month and stars Irish actor Colm Meaney.
Director Nathan Todd told BBC Good Morning Ulster they had not meant to frighten or offend people.
Mr Todd said he would be the first to hold his hand up and apologise.
The film was written and directed by Mr Todd, a former engineering student at Queen's University Belfast.
"The idea was to interest people in a movie we were making which is essentially the story of the two choices which face Belfast, do we engage retribution or reconciliation," he said.
'Not offend'
"The (promotional material) box, when you open it, gives you this choice. It's got artefacts of violence on one side and artefacts of living happily to an old age on the other.
"Obviously, the intention is not to offend anyone. We apologise if we did.
"The intention is to raise awareness for something that we did, that delves into some legitimate questions and tells some interesting stories about the city and the country."
Movie journalist Chris Hewitt, who is originally from Banbridge in County Down, had called the press kit "the most distasteful freebie ever".
Mr Hewitt, the news editor for movie magazine Empire, tweeted on Wednesday: "Just been sent the most distasteful freebie ever: a box containing a bag of nails (for a nail bomb) and a balaclava, for The Belfast Story.
"Genuinely stunned by this. Not quite sure what point whoever sent it is trying to make. But I'm pretty sure it's a moronic one."
Mr Hewitt added: "I'm now not going to see it. There is such a thing as bad publicity."