Every Northern Ireland home to get electoral form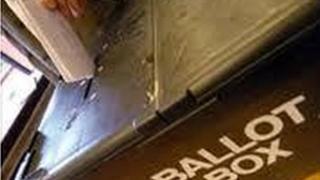 Hundreds of thousands of homes are to be visited over the next month as the Electoral Office carries out a canvass of the electorate.
More than 1,000 staff will be delivering forms to every home to ensure that the electoral register is up to date in time for next year's election for the European Parliament.
The forms should be returned by 27 September.
The last update of the register took place in 2006.
Those who return their completed forms will appear on the new electoral register which will be published in early December.
Graham Shields, the chief electoral officer, said: "Being on the electoral register safeguards your democratic right to vote and ensures that you have your say in elections.
"Even if you don't intend to exercise your right to vote, it still remains a legal obligation to register.
"Registering to vote is easy and I would ask everyone to take just a few minutes to complete the registration form and return it to us by the 27 September deadline."
Séamus Magee, head of the Electoral Commission in Northern Ireland, added: "We want to encourage everyone to look out for the canvassers and their registration form, which you need to fill in and return by the 27 September deadline.
"Even if you think you are already registered to vote or your details haven't changed, you still need to complete and return the form. That way you can be sure you are right up to date and that you are able to vote."