MoD says it will take steps to comply with court ruling on Loughgall killings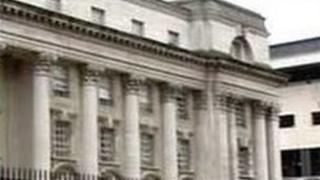 The MoD has said it will take "all necessary steps" to comply with a High Court ruling to hand over papers connected to the killing of eight IRA men and a civilian in Loughgall.
The case for the disclosure of files was brought by the families of three of the IRA men who died.
They want the papers to help their lawyers to prepare a civil action against the MoD.
The relatives claim the killings were "unlawful".
Undercover soldiers shot the IRA men as they approached Loughgall police station with a 200lb bomb in the bucket of a hijacked digger in May 1987.
A civilian, Anthony Hughes, was killed and his brother badly wounded when they were caught up in the gunfire.
The case for the disclosure of the files was brought by the families of Declan Arthurs, Patrick Kelly and Padraig McKearney.
Declan Arthurs' brother Brian said he welcomed the court's decision and said the families wanted full disclosure from the MoD, adding: "We don't want a charade".
In a statement, the Ministry of Defence (MoD) said it was "clear that these deaths resulted from the use of lawful force, carried out by soldiers with great professionalism in circumstances of grave danger to themselves.
"We do however regret that an innocent civilian was killed while military acted in response to a blatant act of terrorism.
"We will of course take all necessary steps to comply with the order made against us for disclosure of papers connected with the incident."
At the High Court on Tuesday Master Bell made the order against the MoD after saying it was imperative that the case moved on.