NI film A Belfast Story promoted by 'nail bomb kit'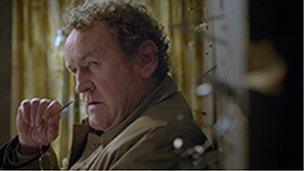 Producers of a new film set in Northern Ireland have sent balaclavas, nails and gaffer tape to the media to publicise the movie.
A Belfast Story claims to "explore life after terrorism".
But movie journalist Chris Hewitt, who is originally from Banbridge in County Down, called the press kit "the most distasteful freebie ever".
The film was written and directed by Nathan Todd, a former engineering student at Queen's University Belfast.
Mr Hewitt, the news editor for movie magazine Empire, tweeted on Wednesday: "Just been sent the most distasteful freebie ever: a box containing a bag of nails (for a nail bomb) and a balaclava, for The Belfast Story.
"Genuinely stunned by this. Not quite sure what point whoever sent it is trying to make. But I'm pretty sure it's a moronic one.
"I'd like to sit down with whoever came up with that little brainwave and explain to them what growing up during The Troubles was like."
Mr Hewitt added: "I'm now not going to see it. There is such a thing as bad publicity."
Nathan Todd, the director of A Belfast Story said the press packs were double-sided to represent the choices people in Northern Ireland need to make between retribution and reconciliation.
"The film addresses the issues of a post conflict Northern Ireland," he said.
"The media packs were not meant to offend or upset anyone but to demonstrate the difficult challenges facing the people and the politicians today.
"It was important for us to capture the weight and physicality of violence. To gloss over this would be wrong in our opinion."
Mr Todd said he hoped people would come to see how the film "tackles the complexities of life in post Troubles Northern Ireland".
"Although it is fictional it deals with the very topical problem of former adversaries seeking to build a new society and the difficult choices that have to be made," he said.
A Belfast Story stars veteran Irish actor Colm Meaney and is due to be released next month.