Teenage Kicks lyrics mural in Belfast could be resurrected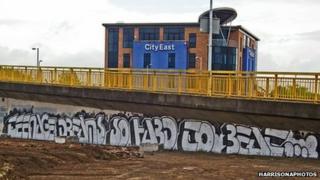 Its disappearance prompted a backlash on social media, but a mural of lyrics from a song by Northern Ireland band The Undertones that was removed from a Belfast flyover could return.
The mural was removed by the Department for Social Development (DSD) in June.
The lyrics "Teenage dreams, so hard to beat" were from The Undertones' debut single Teenage Kicks.
The song rose to prominence in 1978 when BBC Radio 1 DJ John Peel played the song twice in a row on his show.
When it was removed, DSD said they would look at funding the cost of a new mural.
On Tuesday, Belfast City Council's development committee agreed to provide funding towards its restoration.
This will require approval at full council, but there are encouraging signs that a new mural will appear at some stage.
Mr Peel described Teenage Kicks as his favourite song and requested the quotes be put on his headstone.
He passed away in 2004 and the mural appeared on the flyover the day after he died. In 2008, a headstone engraved with the lyrics was placed on his grave.
'Counterpoint'
Adam Turkington of Seedhead Arts, who is the director of Belfast Culture Night, has been leading the campaign to have the mural restored to its former glory.
"Whenever it came down, I think everybody was staggered that nobody thought it was important," he said.
"At least there is some kind of sense that maybe politicians are listening at this stage.
"I think most people who lived in east Belfast felt that it said something and stood as a counterpoint to what was on the walls on the rest of Belfast and east Belfast in particular.
"I think it is really important that what replaces it means something and I hope the original artist would be involved."
Mr Turkington said it was also "important" how the mural's restoration would be paid for.
"I have been advocating that we kick-start our campaign as opposed to using public money to do it," he added.
"It won't take a huge amount of money to do it, but I think it would be good if the people do it rather than just some civil servant deciding 'yes we'll put that back'."
A spokesperson for DSD said: "DSD is currently taking forward a £300,000 Public Realm scheme in this area. Each scheme is assessed individually and community consultation is carried out.
"Community representatives from the area are working with the department to develop a proposal to bring together teenagers from the Short Strand and Newtownards Road area to design alternative community art work in this location.
"The department has funded similar schemes in other locations and does not foresee any issue with an agreed new community mural, subject to consultation with DRD Roads Service who own the wall."