DVLA consultation on Coleraine move outrageous - Durkan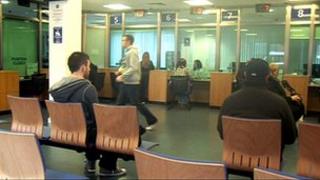 The environment minister has said he is "absolutely amazed" by the government's arguments for moving more than 300 jobs from the Driver and Vehicle Agency (DVA) in Coleraine to Swansea.
Mark H Durkan said the government consultation document contains an "outrageous" statement.
Part of the document says moving the jobs from Northern Ireland would remove any possibility of religious bias.
Mr Durkan said that was an insult to workers whose jobs are under threat.
The government consultation document states: "Centralisation will remove any possibility that Northern Ireland services may be biased to any particular religious group, since these transactions will no longer be serviced by staff based in Northern Ireland, who could themselves hold particular beliefs."
Mr Durkan said: "Hundreds of DOE (Department of Environment) staff in Coleraine face a very anxious time with the real threat of jobs being lost.
"This reference to removing possible discrimination has added insult to injury for staff in DVA.
"The implication that there could be any bias by staff in DVA in the delivery of services to customers is outrageous."
He said the "totally inappropriate comment" was reflective of the poor quality of the consultation.
"Not only is it wrong that a consultation on such an important matter is being carried out in the middle of summer and for the shortest possible period of eight weeks," he said.
"The whole exercise is one-sided, amounting more to a statement of intention by DVLA , rather than a proper and meaningful consultation that sets out, and seeks opinions on, all the possible options for the future delivery of vehicle licensing services in Northern Ireland."
He said he would continue to oppose the government's proposals to move the jobs.
'Benefits and impacts'
In response a DVLA Spokesperson said: "There is no truth in the suggestion that the consultation on Northern Ireland services implies that DVA staff may be biased in the way they deliver services.
"The consultation document clearly outlines both the benefits and impacts of the proposals.
"The impact assessment published alongside the consultation also outlines other options that have been considered.
"Comments have been invited on these documents as well as on the consultation document itself. No decision about the proposals in the consultation will be taken until all responses received have been considered."