Man praised for rescuing woman from sinking car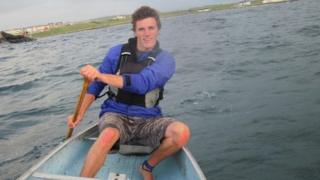 A County Antrim man has been praised for his role in rescuing a woman from her sinking car in a Scottish harbour.
Patrick Parke, 24, from Portrush, is a qualified teacher but is currently working at Abernethy Outdoor Centre near Nethybridge in the Cairngorms.
He was cycling with a group near Burghead harbour when he heard a splash and became aware a car was in water.
A woman and her dog were inside a sinking vehicle. He said he had life-guard training and went into autopilot.
"I stripped off, got into the water and pulled the woman from the car," he said.
"It was about half full of water when I pulled her out."
Two Scottish men, Derek Main and Gary Roberts, were also involved in the rescue which took place on 1 August.
The woman's dog was also freed by one of the other rescuers and it managed to swim to safety.
Situation
Patrick said he did not see himself as a hero.
"I think I just did what anyone would do in that situation - it didn't seem particularly brave to me," he said.
"When it was over I just went back to work as I had the group to look after."
The Portrush man graduated from Stranmillis University College, Belfast, in July 2012 and then spent a further year as a sports development intern.
The college has praised his rescue efforts.
"His actions were typical of Paddy's impressive and energetic approach to everything he tackles, displaying some of his many talents," it said.