Northern Ireland Housing Executive hit performance targets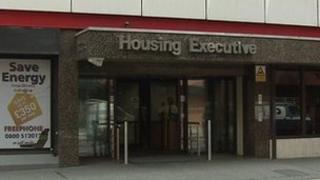 The Housing Executive has said it hit many of its performance targets over the past year despite contract scandals and uncertainty surrounding its future.
The organisation said that, in partnership with housing associations, it delivered 1,254 new homes.
However, the waiting list for low-rent, social housing rose to 41,356.
According to its annual report, about one-third of its 90,000 housing stock benefited from improvements like new kitchens, heating and double-glazing.
"This was an excellent performance," said chairman Donald Hoodless.
"I am determined to see the Housing Executive's good reputation restored."
Recently the Housing Executive was heavily criticised for estimated overpayments of £18m to four contractors.
Social Development Minister Nelson McCausland said that either "incredible incompetence or wilful corruption" allowed it to happen.
In January, Mr McCausland proposed radical reform of the 40-year-old organisation, believing it was "no longer sustainable or made the best use of public money".
Proposals include a new regional housing body and giving housing associations control of the Housing Executive's entire stock of 90,000 homes.