GAA abolishes novelty act in Scór rule changes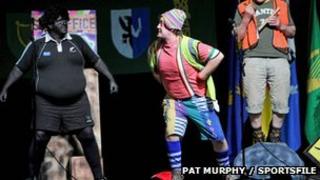 The novelty act, a cultural tradition in the Gaelic Athletic Association (GAA) dating back to 1969, has been abolished from one of its annual events because it is viewed as out of place in modern Ireland.
The act formed part of the annual GAA competition known as the Scór, which was established to promote Irish culture and traditional activities off the sports pitch, during winter months.
Those taking part in the Scór compete for their club and county in eight separate disciplines including set dancing, ballad singing and music.
The novelty act was intended to provide some comic relief, and the opportunity for amateur actors and would-be comedians to strut their stuff on stage.
However, a few novelty acts have proved controversial in recent years, and it seems, caused something of an embarrassment to the organisation.
Sports pundit Jarlath Burns said the use of "Gombeen Irish" had no place in the GAA.
"Some of it is the sort of nonsense that would insult us if anyone else had been doing it," he said.
Writing on his Twitter account, Mr Burns condemned some of the material as "sectarianism, racism and toilet humour".
But many people involved in the productions fiercely reject that opinion and there is strong opposition to the abolition at GAA clubs who have been successful in recent finals.
A recent meeting of the GAA's Ard Chomhairle (central council) discussed changes to the Scór competition rules, including the extension of its quiz format - which tests knowledge on Irish history, sport, culture and current affairs.
Those present also agreed to abolish the novelty act with immediate effect.
Mr Burns, a former national chairperson of Scór, said the "lack of politically correct nous" on display during some novelty acts was "not commensurate" with the values the GAA was currently trying to project in modern-day Ireland.
'Awful'
He expressed a belief that any racist or sectarian overtones were often down to ignorance rather than malice, but he added that it would not be viable for the organisers to "vet" every novelty act for offensive material before they went on stage.
"For every good novelty act there are about 10 awful ones," Mr Burns said, adding that the "staged" version of "Irishness" on display could also be viewed as offensive.
"The farmer will arrive on stage with straw sticking out of his backside," the pundit said.
He pointed out that if Irish people were portrayed in such a way elsewhere, there would be complaints.
At the All-Ireland finals in Londonderry earlier this year, a club from County Limerick staged a novelty act about Irishmen emigrating to New Zealand, during which three characters appeared on stage with black paint on their faces and arms.
No objections
One of those involved in the production was David Kelly, Scór officer at Kilmeedy GAA Club, who said there was no intention to offend anyone. He said no-one present at the competition had raised any objection to any aspect of their performance.
Mr Kelly said the actors had painted their faces to portray All Black characters from New Zealand, and added that they had intended it to be a celebration of the two cultures, not to insult them.
Mr Kelly said people in his club were "bitterly disappointed" at the abolition of the novelty act section and said he would be raising the issue with GAA officials in County Limerick.
North of the border, there is also opposition in clubs such as Killyclogher, in County Tyrone, and Kilcoo in County Down, who have both achieved significant success in the novelty act category.
At the All-Ireland finals in April, Kilcoo GAC produced a comedy sketch in which a nun, a policeman, a doctor and politician fly to Dublin for a GAA centenary celebration.
'Saddened'
Most of the in-flight entertainment was provided by the captain, played by Joe Devlin, who has been involved in the club's novelty acts for more than 30 years.
Mr Devlin said the loss of the category would "lessen the attraction of Scór and as a result fewer people will be drawn to our cultural events".
"Having represented club, county and province last season on the All-Ireland stage am I now effectively to be excluded from this competition?" he added.
Neither Mr Devlin nor his club would be be drawn on Mr Burns's comments about the political incorrectness of some novelty acts.
But in a club statement, Kilcoo GAC said: "We are saddened to learn of this move without consultation to remove both of these sections in the Scór competition.
"We strongly feel this shall alienate competitors and is not beneficial to the future of Scór and call for an immediate review of this decision."
In County Tyrone, Scór enthusiasts are organising meetings to make their case for retaining the novelty act, and intend to seek support from clubs in County Armagh.
Disappointed
Despite his own strong views on some of the performances, Mr Burns, from Armagh, admitted he was no stranger to treading the boards and taking part in novelty acts himself.
A few years ago, he starred as a TV licence inspector in an Armagh production written by his brother.
He added that his brother, who had already written a new sketch for next year's Scór, was among those disappointed by the rule changes.
"Sometimes you have to take one for the team," Mr Burns added.