Men held over UVF murder of Seamus Gilmore released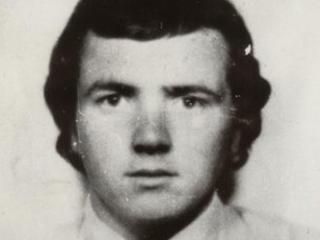 Two men arrested over the sectarian murder of a Catholic teenager 40 years ago in north Belfast have been released pending a report to the PPS.
Seamus Gilmore, 18, was shot by loyalist paramilitaries, the Ulster Volunteer Force, at a petrol station at Ballysillan Road on 4 February 1973.
Two men got out of a hijacked car driven by a third man and fired at him. He died in hospital from his injuries.
Detectives arrested a 59-year-old man in Falkirk and a 61-year-old in London.
Mr Gilmore's family said they appreciated the efforts of the PSNI.
"We have forgiven those who took Seamus' life and we pray for them," they said.
"Our priority now is our 82-year-old mother and will make no further comment on this matter."