Physiotherapist prescription move 'to benefit patients'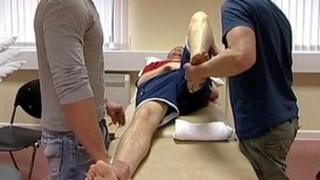 Thousands of patients in Northern Ireland will benefit from independent prescribing rights for physiotherapists and podiatrists, it has been claimed.
It means physiotherapists and podiatrists will be able to prescribe medication to their patients without seeking approval.
It is hoped the change in legislation will make treatment more efficient for patients with long-term conditions.
Supporters of the change said many safeguards were in place.
Tom Sullivan, of the Chartered Society of Physiotherapy in Northern Ireland, said the legislation came into being at Westminster on Tuesday.
"It will be for the various devolved institutions in Scotland, Wales and Northern Ireland to make the various amendments to their NHS regulations, but we would hope that there will be qualified independent physiotherapy prescribers by sometime in 2014," he said.
'Safeguards'
"Essentially, it will be those who are advanced practitioners, who are already experts in their particular scope of practice."
Mr Sullivan said there would be a "whole range of safeguards in place".
"Those who will be able to independently prescribe will have to complete a very rigorous training course similar to courses that nurses, pharmacists and other non-medical prescribers already have to complete," he added.
"This announcement has the potential to significantly transform how patients access services and ensure that those in need receive faster, more efficient treatment, for their condition.
"Physiotherapists being able to independently prescribe - for the first time anywhere in the world - will remove bureaucracy, free up time for doctors and save money for the health service."