Belfast City Council plans to reduce rubbish bin size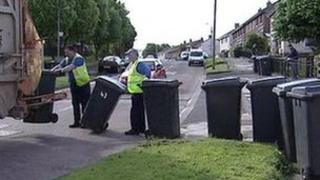 The size of the standard black wheelie-bin in Belfast could soon be reduced, to encourage people to recycle more rubbish.
In order to meet EU targets, Belfast City Council needs to recycle more - so it is planning to introduce smaller black bins.
The move is a proposal from the council's health and environmental services committee.
It will need the backing of the full council before it goes ahead.
Councillor Steven Corr said the idea was to phase in the new bins over the coming years.
A final decision on the plan will be made by the council next month.
"The bins that people will be getting will be streamlined, a slimmer build - they hold less, about 60 litres less than the rubbish that can be held in the normal black bin," Councillor Corr said.
"Belfast is producing too much unrecyclable waste as a city. It can't be sustained."
He added: "We need the city's recycling rate to be at least 50% by 2020, as required by EU legislation.
"If we fail to achieve that target, the council will face heavy fines and it's inevitable that those fines will have to be passed on to ratepayers in some way.
"As it stands currently we could recycle 70% of the waste we produce, but we're only recycling half of that."
Ricky Burnett is policy and operations director at ARC 21, an umbrella waste management group for 11 councils in the east of Northern Ireland, including Belfast City Council.
"Belfast City Council are sending out a very clear message that they want the focus to be on recycling. I think that's right and it should be supported," he said.
"A survey by the Department of Environment some time ago found 90% of people said they wanted to recycle and did recycle."
Mr Burnett said councils in Northern Ireland had to meet recycling targets.
"This is really the hub of the matter, it's to recycle more," he said.
"We've done well, Northern Ireland's in and around 40%, but we need to do more.
"The programme for government set a target of 45% by 2015. The department are looking at a more onerous target later on so we have to redress the balance."
Belfast City Council has said only bins that are lost, stolen, or swallowed by council bin lorries will be replaced for the time being, but that eventually everyone will have to cope with the smaller version.
"In the fullness of time we will certainly be moving that way," Councillor Colm Keenan said.
"What we want to say today is that this is not a pan-city initiative, in fact very few households will even receive these new black bins in the first instance."