Conduct of special adviser Stephen Brimstone to be examined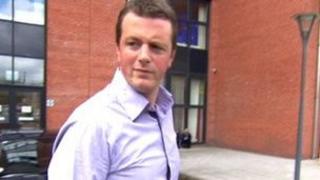 The Department for Social Development is to check if there is any basis for a disciplinary investigation into Nelson McCausland's special adviser's conduct.
It follows a complaint from TUV leader Jim Allister about Stephen Brimstone.
A BBC Spotlight programme reported that Mr Brimstone phoned a DUP councillor to ask her to change her planned vote at a Housing Executive board meeting.
Mr Allister complained that Mr Brimstone's actions were in breach of the special advisers' code of conduct.
The head of the Northern Ireland Civil Service, Dr Malcolm McKibbin, has now replied to Mr Allister, informing him that a fact-finding exercise into the matter will take place.
Last week, it was revealed that Mr Brimstone had met the DUP councillor at the centre of controversy, Jenny Palmer, together with their party leader Peter Robinson.
It is understood that the DUP is drafting an apology from the special adviser to the councillor.
Mr Allister said that immediately after the Spotlight programme he had written to Dr McKibbin to ask for an investigation.
"Special advisers should not use official resources for party political activity," he said.
"They are employed to serve the objectives of the administration and the department in which they work.
"It is this which justifies their being paid from public funds and being able to use public resources, and explains why their participation in party politics is clearly limited.
"They should act in a way which upholds the political impartiality of civil servants."