Republican Marian McGlinchey guilty of protest charges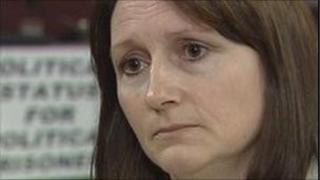 Veteran republican Marian McGlinchey has been convicted of two charges arising from a republican protest in Belfast over three years ago.
McGlinchey, 59, also known as Marian Price, was accused of resisting and obstructing police after a white-line protest in the New Lodge area of Belfast on 10 July 2010.
McGlinchey did not attend Belfast Magistrate's Court due to ill health.
The case was adjourned until 2 September.