Three in court after Glengormley £600,000 cannabis seizure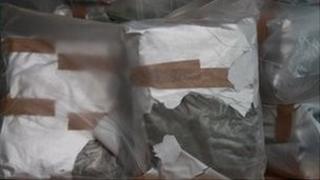 Police seized cannabis worth £600,000 after it was unloaded from a lorry in County Antrim, a court has heard.
Officers stopped the HGV vehicle and a car involved in the drugs transfer following a meeting near Glengormley.
Details emerged as three men appeared on charges connected with the haul recovered on Thursday morning.
One of the men was granted bail, another did not seek bail and the third man is expected to apply for bail later this month.
Patrick Austin, 33, of Rectory Park, Lurgan, County Armagh, Mark Cullen, 39, from Castleton Gardens, Belfast, and Michael Slevin, 47, of Meadowvale Park, Omagh, County Tyrone, are all accused of possessing Class B drugs with intent to supply.
Spotted
Austin and Slevin are also charged with being concerned in the supply of cannabis, while Cullen faces other motoring offences.
Belfast Magistrates' Court heard Cullen was in a Volkswagen Passat spotted on the Ballyrobert Road in Newtownabbey.
The car met with the lorry driven by Slevin with Austin alongside him as a passenger, according to police.
A detective said more than 30 packages of cannabis, with an estimated street value of £600,000, were moved into the Passat.
The car then travelled to the nearby Corr's Corner Hotel where it was stopped.
Police detained the lorry on the Ballyrobert Road.
Not involved
Following arrest, Slevin claimed he had given a lift to Austin in Dublin and knew nothing about any boxes being put in his vehicle.
It was confirmed that he was not involved in any unloading of the packages.
When questioned about his position in the alleged operation, he said he "wasn't even on the ladder", the court heard.
Slevin was granted bail to appear again on 13 September after police raised no objections.
He was ordered to put up a £1,000 cash surety, told to surrender his passport and subjected to a curfew and electronic monitoring.
Cullen did not seek bail and was remanded in custody to appear again by video link in four weeks' time.
Austin was also remanded in custody, but is expected to apply for bail later this month.