DUP 'to apologise' to whistle-blower councillor Jenny Palmer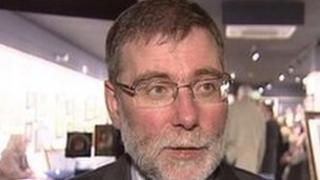 The DUP leader has met a Lisburn councillor who told a BBC Spotlight programme she was pressured by her party to change her vote in a Housing Executive board meeting.
The programme alleged there had been political interference in the running of the Housing Executive.
The BBC understands Jenny Palmer met First Minister Peter Robinson and the housing minister's special adviser.
It is understood an apology to Mrs Palmer has been drafted for release.
The allegations in the BBC Spotlight programme, which were broadcast in July, led to the assembly being recalled.
The programme contained an interview with Mrs Palmer, a Housing Executive board member, in which she said she was put under pressure by her party to change her vote at a board meeting.
She said the demand was made in a phone call from Stephen Brimstone, special adviser to housing minister Nelson McCausland.
Allegation
She claimed he had asked her to vote against the board's decision to refuse a request by the minister to extend a maintenance contract to Red Sky.
Mr Brimstone told Spotlight he did not accept the accuracy of the account of events but Mrs Palmer stood by her claim.
Mr McCausland denied the allegation and said during a debate in a special sitting of the assembly that he always sought to carry out his role with "integrity and probity".
A well-placed source told the BBC an apology exists in draft form but said it is a matter for the press office when it is released.
The DUP is declining to comment at present.