Northern Ireland striker David Healy cleared of assault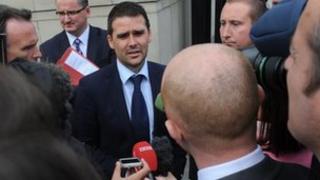 Northern Ireland footballer David Healy has been found not guilty of assault after the man he was accused of attacking admitted lying in a bid to blacken his name.
Mr Healy had been accused of attacking the man in Belfast in May last year.
The former Manchester United and Glasgow Rangers striker, from Killyleagh in County Down, denied the charge.
The judge said the key issue was "the credibility of one person".
Conor Crossan, 33, a Catholic from north Belfast, admitted to Belfast Magistrates' Court that he misled the Irish Football Association (IFA) in an attempt to prevent Mr Healy playing for Northern Ireland against the Netherlands a year ago.
He told District Judge Peter King: "I was angry. I had a broken nose. I did not want him to get his trip away to be an international hero."
'Unprovoked attack'
Mr Healy, 33, who was playing for Glasgow Rangers at the time, admitted their heads clashed but insisted he acted in self-defence after being subjected to sectarian abuse.
Crossan had claimed he was headbutted by Mr Healy after a night out in Belfast city centre. He told police it was an unprovoked attack and that he had not tried to approach the striker.
But, in an email to the IFA's Belfast office days later, he said he had been attacked after asking for a photograph with the player, who has scored 34 goals for Northern Ireland.
Crossan, a self-employed father of two, said he decided to send the email because he had not heard back from police after lodging his complaint.
He told the court he became angry after an internet search revealed Mr Healy had been awarded an MBE for services to football and the community in 2008.
Crossan added: "Mr Healy has an MBE. He's a role model. He does charity work. He is talented in the sport and he's lucky to have such a talent. He's a hero in Northern Ireland sport.
Intoxicated
"The same guy - when out on Saturday night - I thought his behaviour for a local hero was disgraceful."
Crossan did not deny claims made by the defence that the email was an attempt to blacken Mr Healy's name.
The court also heard how Crossan had four pints of lager, seven bottles of beer and three cocktails during a pub crawl with two friends on the night of the incident. He denied being intoxicated.
"I wasn't drunk drunk, but I was tipsy enough considering the length of time I was out for. I would not say I had a lot to drink," he said.
He also denied being sectarian.
"I was not brought up to be sectarian. I am involved in a football team. I work with Protestants. I have Protestant uncles," he said.
No medical evidence was produced during the proceedings to confirm whether Crossan's nose was broken during the altercation because he did not wait to have an X-ray at hospital.
'Vindicated'
He later said he had been advised by family and friends to give an interview to a newspaper about the alleged assault.
Speaking outside court, Mr Healy, who was recently released by Bury FC, said the past year had been difficult.
He added that he felt vindicated and was glad the case was over.
"I am just glad it is all done and that I can get on with my life," he said.
"It has been hard when people falsely accuse you of something. Today I have been acquitted and I am delighted."
The original judge in the case stepped aside after an application was made by the prosecution for the contest to be heard in another court because, they claimed, "there was a perception of bias".
Deputy District Judge Joe Rice, after reviewing case law, said he agreed "there is, at least, a perception of partiality".