Restrictions on HIV-infected health staff may be lifted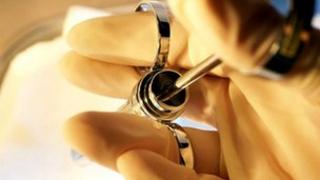 The Department of Health (DHSSPS) in Northern Ireland is considering whether to lift restrictions which stop healthcare staff with HIV performing a number of medical procedures.
On Thursday the UK government announced it was lifting a similar ban.
From 2014, healthcare staff in England, Wales and Scotland having HIV treatment will be able to take part in all tasks, including surgery and dentistry.
The restrictions have been in place since the 1980s.
The DHSSPS is currently consulting on whether to make similar changes in Northern Ireland.
The restrictions prevent medical staff with HIV performing a number of operations in areas like surgery, obstetrics, gynaecology and dentistry in order to protect patients from the risk of infection.
Monitored
However, an expert advisory group on Aids found that there had never been an incident of an HIV-infected healthcare worker in the UK transmitting HIV to a patient.
As a result, England's chief medical officer, Prof Dame Sally Davies, said it was time to scrap the "outdated rules".
She also pointed out that scientific advances and effective treatments for HIV meant that any risk to patients was "negligible".
Under the new system in the rest of the UK, healthcare workers with HIV will be allowed to undertake all procedures if they are on effective combination anti-retroviral drug therapy, and are regularly monitored.
It is not known if any medical staff in Northern Ireland are infected with HIV.
Consultation
However, the expert advisory group estimated that the numbers would be very low, at around three.
This compares to estimates of 110 HIV-infected healthcare workers in England and 15 in Scotland.
A DHSSPS spokesperson said that they were aware of the changes in the eligibility in the rest of the UK.
They said: "The minister will consider advice on this issue shortly, which includes the outcome of a Northern Ireland consultation, and will announce his intentions in due course."
The latest figures show that there are 522 people living with HIV in Northern Ireland.