DSD studies critical ruling on St Matthew's Housing Association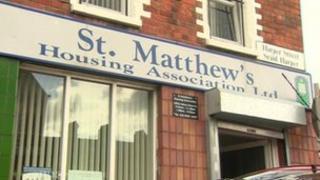 A High Court judgement that criticised the allocation of public housing by an east Belfast housing association is to be studied by Stormont officials.
A Belfast High Court judge found the allocation of some houses by St Matthew's Housing Association in Short Strand was "not fair or equitable".
The judge also accused a former Sinn Féin councillor of failing to declare a conflict of interest in the allocation.
The former councillor, Joe O'Donnell, is a board member at the association.
The case centred on a new housing development on the site of the old Mountpottinger police station in the Short Strand.
The judge found the allocation of some of the houses had not been done properly. Transfer applicants had been prioritised rather than those on the usual waiting list.
'Nepotism'
Mr Justice Horner said: "I conclude that the allocation of the two-bedroomed units was unlawful. It was not fair and equitable."
One of the people allocated a house was a niece of Mr O'Donnell.
The judge said: "It is contended... J O'Donnell was not in a conflict of interest, actual or apparent, because one of the units was allocated to his niece. I do not agree. It must be remembered that 'nepotism' is derived from the Latin word for nephew."
Public housing allocation in Northern Ireland is overseen by Stormont's Department for Social Development (DSD).
The court ruling was made on Thursday, and on Friday, a spokesperson said DSD staff were studying the judgement.
No-one from St Matthew's Housing Association was available for interview, but in a statement the organisation said it was committed to the fair allocation of housing.